Natsukawa Ai-chan (夏川愛-ちゃん; Natsukawa Ai-chan) is a minor character in the "Super Lovers" manga and anime written by Abe Miyuki. She is a middle-school student and is Shima's tutee. When she was first introduced, she had a small crush on Shima. It is unknown if she still has the crush or not.
Appearance
Edit
Ai has black hair and blue eyes. Her hair is short and quite symmetrical with one bigger bang coming down the middle of her face.
Personality
Edit
Ai has a nice and subtle personality. She appeared to be lonely because of problems with her family and school.

Ai's parents divorced one year before her debut in the series and she now lives with her grandmother. Ai was forced to go to a new school where she unfortunately doesn't get along with her classmates. This caused her to stop attending school, making her quite depressed from loneliness.
Character
Edit
She was quite lonely because of the absence of her parents. Everything in her life is basically not going too well. Ai is seen to derive happiness when she is with Shima. During a discussion with Shima, Ren points out that Ai resembles Aki and this is the reason why Shima just can't 'leave her be'.
In chapter 8 Aki is shown to be in a very bad mood while walking into Ren and Haru kissing. Aki scolds Haru and tells him to go back to work.
"You've sure got a hell of a lot of nerve feeling up an underage kid while you make me work for no pay... I'll report your ass to the police."
Haru and Ren then find out the reason behind his temper. Natsukawa Ai, a 3rd-year middle-school student, is taking private tutor session with Shima. She is said to be
'utterly infatuated with Shima'
. Ai's parents had divorced the following year forcing her to live with her grandmother. She also doesn't get along with her classmates in school causing her to not attend. But despite all of her problems she seems to be happy when around Shima.
That following night Haru and Ren are awoken by Aki and Shima's loud argument which started because of Aki's attempt to stop Shima from confronting Ai outside at such a late hour. Shima eventually gets his way and talkes to Ai outside. What she says is not audible in the manga and the anime, but it is speculated to be a love proposal. Shima then continues to walk Ai safely back to her home.
The next day Ai comes to the White Fang cafe/bar to thank and let Shima know how she is going to start attending school 'next week'. Unfortunately Shima was running late that day so she just started to talk to Aki about these things.
Relationships
Edit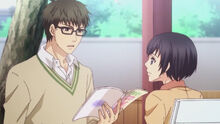 Tutor
Shima is tutoring Ai to help her get back into school. It is mentioned that Shima's and Ai's grandmothers are friends which is part of the reason why Shima is entrusted to tutor Ai.